We conduct introductory training to school students in the filed of :
Basic Electrical (House Wiring)
Motor Control
Pneumatic
Electro-Pneumatic
Arduino (Electronics)
It is essential for school students to have an exposure about Industrial and Technological advancements that is being used in the industry, which can help them gain more knowledge and also easier for them to choose field of study in the future. This program can also help school students to usefully spend their free time during weekends.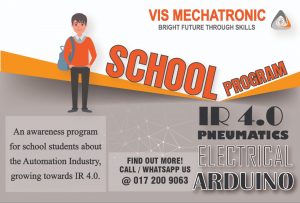 We also train school teachers in the field of Arduino (Electronics) and Electrical which is in the high school syllabus.